Development Policy
Development of New Products
Advanced Technologies Create Innovative Products.
Physicians have many requests for the medical devices they use in treating patients.
In order to enter the market, the products must be developed to be more than a certain level in any hospital and be served to lead the procedure to be standardized in which treatment results may lead to advancement.

Product planning begins from ideas found at hospitals, congresses and study groups which are brought to a Planning Group.
Regarding innovative products, much trial and error are being conducted.
Doctors and staffs are involved in consultation and prototypes are checked severely.
With these processes, a product full with originality is born with the help of related groups to bring an effective and speedy system in serving and to lead to productization.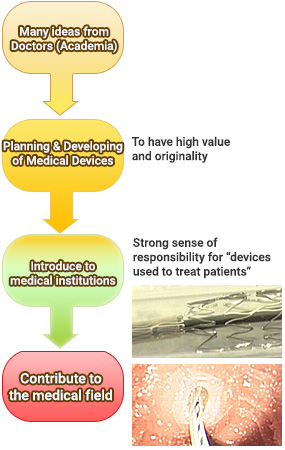 Principle of Development
We have been using a cultivated technology of "Elasticity" as the basis of development.
A large step is taken in the medical field by using raw materials such as metal and resin to have hydrophilic-coated surfaces and microtechnologies in creating devices with people-friendly elastic materials.

"Treating an elastic body with elastic materials" is preferable and bringing in new ideas of manufacturing and developmental engineering leads to a global serving of high valued products.
We always think one step ahead in trying to bring in many smiles.
System of Development
Our products are designed by reflecting voices from clinical sites and by ideas created by many professionals of different divisions.
Characteristics, evaluation of safety and verification are formed into 1 and are following the ISO13485/14971 system.
As a final step, the products are evaluated under similar conditions to those at clinical sites.
The products are also tested in terms of functioning ability and characteristics.

Product Design
Requests from hospitals turn into demanded characteristics which lead to drawing up a design diagram.
Inspections of characteristics and of trial products are conducted according to ISO.
Product design starts from drawing up a design diagram that contains the requests of Doctors which turn into demanded characteristics.
Then, our development system following ISO conducts inspections to evaluate characteristics and safeness of trial products.
Finally, the functioning ability and effectiveness of the product will be evaluated under the same conditions as under medical practices.
The goal of a developer is to be as effective and people-friendly.